OK, so in this review, we look at the very popular Nextbase 312GW Dash Cam and other models available in this range such as the more expensive, Nextbase 512GW and top of the range 612GW.
The Nextbase can be bought from Amazon (current price from £64.95) so its a really cost-effective dashcam. But is it the best on the market for your money? Let's take a look.
Let's look at what why you should be buying a dashcam and what options you have for this smart little Nextbase dashcam.
Nextbase 313GW Latest Price
CHECK LATEST PRICE
Popularity of Dashcams
There is no doubt that dash cams are gaining popularity with drivers all over the world.
The value of the market in 2017 was 2.19 billion, with over 27 million dashcam units sold worldwide. And still growing!
There has been an over 900% rise in dashcam sales; the growth of dashcams has outstripped the sales of other electronic products such as tablets, digital cameras, and fitness bands.
Lower Insurance Premiums
This systemic rise in dashcam purchases has been due to the increase in bogus insurance claims.
There has been a marked rise in the crash for cash scams where someone deliberately crashes into you and then file bogus personal injury claims.
It is for this reason alone that the purchase of a dashcam can pay for itself quite quickly.
In the UK alone last year, 29 of the top insurers accepted dashcam footage of evidence in response to claims made.
Although some insurers offer discounts, there is no doubt that even those insurers that don't will consider dashcam footage.
One of the top dashcams on the UK market Nextbase is a significant supplier to both individuals and fleet owners of vehicles.
So there is a real case of speculating to accumulate.
One of the main reasons for purchasing a dashcam is the added legal protection that they can give you if you.
With recorded footage from dashcams is increasingly being used in insurance claims across the globe.
The central four countries for dashcam use are Russia, China, the USA, and the UK.
In the UK alone, there are over 11 million users of dash cams, and there has been a 400% growth in their use.
So what are Dash Cams?
Dash cams are basically a small video camera which is mounted on your windscreen, and they record the road ahead while you are driving.
While what they do is quite simple, i.e., recording the road in front, the technology involved is quite impressive.
The camera and the lens have to be of the highest quality. In the case of Nextbase, who are the market leaders in dashcam technology, the camera has a 140-degree exposure and records in full HD.
This means that high-quality images of the features of a vehicle, such as a number plate recognition and other features, are easily achieved.
Dashcam – Benefits To The Driver
As we have noted earlier in-car dashcams can make the work of the insurance company easier when it comes to considering a claim.
The other significant benefit for the driver of the vehicle is that it helps the need to prove who was in the wrong when an accident occurs.
It can be sometimes difficult to ascertain who was actually in the wrong.
Having a recording of the incident relives the stress on the driver to have to plead or argue a case, mainly if it is a crash for cash scenario.
If you are using a dashcam in a fleet scenario, some drivers can be wary of having a dashcam onboard.
When insuring a vehicle personally, you are usually required to respond to how long you have been driving without making a claim to attract a 'no claims' discount from the insurer.
So any technology that is present that shows an accident was not their fault has the capacity to help with protecting any no claims period a driver might have.
Another driver benefit of a dashcam for a van or HGV driver is the increased visibility that they can offer.
They can help drivers with blind spots in their vehicles and give a better all-round visibility of what is occurring in the area of the road.
This is particularly poignant when it comes to cyclists and driving in cities.
There have been many examples of commercial vehicles just not seeing a cyclist and horrific accidents being caused.
The psychological effect of a driver injuring or killing a cyclist can be enormous and has been well documented.
The fitting of a dashcam can be a small price to pay for both the driver and the cyclist.
Dashcam – The Benefits To The Fleet Owner
For a small business, the typical cost of insurance is typically 30% more than standard household insurance.
All the benefits of fitting a dashcam for an individual driver also apply to the fleet owner.
With a fleet owner, though, when a vehicle is involved in an accident, it is immediately taken off the road until the claim is resolved.
The average claim time can be around 245 days, which is a long time to have a vehicle out of action and off the road earning money.
We are not having to spend time tracking down witnesses and other mitigating circumstances and finding who as at fault, can save many working hours.
Many fleet companies also opt for self-insurance; in this instance, having a dashcam installed can save even more.
Average Claim Value in UK
In the commercial market, the average claim is £2,700, and the average personal injury claim over £10,000.
Even if you can prove that half of these accidents were not your fault by the addition of a dashcam fitted, companies can save a considerable amount of money.
Nextbase has also introduced for the fleet owner a web portal to make it easier to compare models and upgrade models.
It gives a straightforward comparison of Nextbase dashcam products as well as critical features of all products listed.
Each model is explained in detail with pricing transparent, including prices to fit the product.
Choosing The Right Dashcam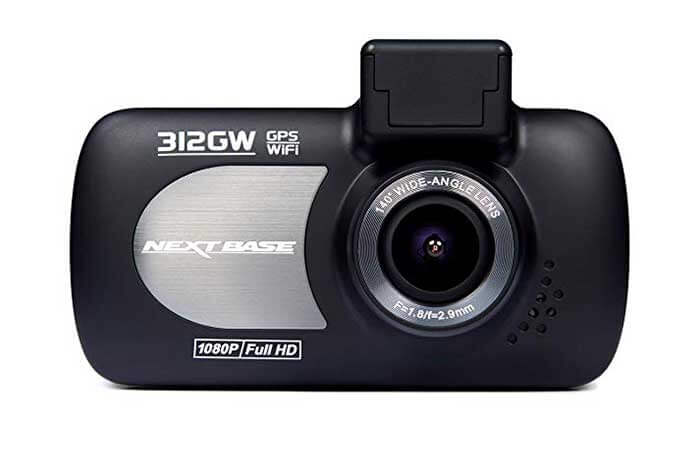 When you are looking to buy a dashcam, there are a few options you might want to consider.
Other than a good picture quality, what other aspects might guide you in the purchase of a good dashcam.
You might want to think about the features such as GPS logging, the wireless transfer of data, and whether you are looking for front and rear camera.
As in any piece of technology, the price of models will vary depending on the levels of features that are present in the product.
The prices of dashcams also vary, but you can get yourself a dashcam for as little as £50.
Another way of choosing the right dashcam is to look for reviews and recommendations from recognized technology experts.
The Nextbase 312 GW dashcam has been extensively reviewed by one of the best-known technology review experts and appears in the Which Best Buy sections.
If you are UK based and looking for a quality dashcam the Next Base range of dashcam models have a head start over other brands.
Using the latest sensor technology, high-quality glass lenses, and internal software make the Next Base image quality ahead of other manufacturers.
So let's take a closer look at the new Next Base, the Nextbase 312GW model, and what makes it a winner in dashcam products.
Who Are Nextbase?
Nextbase came into being in 1999, and the first range of products was rear DVD screens. They went on to develop the first tablet DVD players that would fit in the back of a headrest.
They were the only manufacturer that were meeting all the industry standards.
Once their retail range had been established, they wanted to expand their in-car technology range and discovered dashcams being developed in eastern Europe.
In eastern Europe, the dashcam was being marketed as a security product in order to protect security and police forces.
With the background of supplying quality inline car technology, the company moved into dashcam manufacture.
The most popular models in the Nextbase range have typically been the 412GW and 512G models. Latest prices for both these Nextbase models are below:
Nextbase 412GW
CHECK LATEST PRICE
Nextbase 512GW
CHECK LATEST PRICE
The 312GW is the new kid on the block and is selling fantastically well.
Nextbase has become so popular because it only designs and develops dashcams for the UK market.
With exceptional picture quality and ease of use, it is fast becoming the number one selling dashcam in the UK.
NextBase 312GW Features
The Nextbase 312GW is a smart-looking dashcam. It has a 2.7-inch screen that is flanked on both sides by ergonomic buttons.
The screen gives a portrait design, and this helps it sit unobtrusively behind the rearview mirror.
The innovative screen mount makes it easy to remove and pop into the glove compartment when not in use.
The 312GW comes ready to mount out of the box and is supplied with many settings already preset, such as date and time.
You can choose to incorporate your number plate, speed, and time date and location.
Using its own app, video footage can be uploaded then with the provided link, and you can share the footage with whoever you want too.
It comes wi-fi enabled, which you can turn on and off through the available buttons.
Before you connect, you will need to install the free Nextbase Cam Viewer from the app store.
Once connected, you can see a live view on your dashcam screen.
The image quality is phenomenal, and that applies to both daylight and night time recording.
The 140-degree lens means that you don't have to be close up to another vehicle to read their number plate.
It comes complete with a 4mtr cable charger, suction mount, and mini USB cable.
As other Next Base products the 312GW offers a range of top-quality features;
The unit records at 130 FPS ( Frames Per Second) and offers 1080P recording quality. The lens fitted gives a wide angle of 140-degree vision and high-quality images ideal for insurance claims.
The unit has WiFi connectivity, which enables you to download and share any images from your dashcam to your phone or tablet.
Incorporated within the Nextbase 312GW is a quality GPS unit to record important information like location and speed data.
You are able to track your journey on Google maps and gives you the ability to pinpoint the exact spot of where an incident may have happened.
Using an in-built G sensor, the Nextbase 312GW enables essential files to be protected from any impact. The sensor also copes admirably with night vision
Nextbase also gives you an app where you can manage your images and acts as your own personal storage space.
SD Card Required
Any footage recorded by the Nextbase needs to be stored, and this process is typically done using an SD card.
This also means that you can easily upgrade the amount of storage space by using a higher storage space card.
The Nextbase 312GW doesn't come with an SD card. However, it takes most SD cards, such as the 32GB micro SD card made by Scandisk.
This gives the unit loads of space for you to record.
It is also down to the excellent software installed in the Nextbase that allows it to manage the storage capacity well.
You should also use the camera to format the card when you want to use it so that the recording is best matched for the camera.
The recording software in the Nextbase unit will record in a loop.
This means that the new images will always overwrite the oldest images.
This does not mean though that if an incident occurs, the footage is lost.
If an accident or incident occurs, that portion of the footage is cleverly locked away in a safe portion of the Nextbase memory, and it is not deleted in any way.
Some Great Value SD Card – Lots of Sizes Available
CHECK LATEST PRICE
How Does Nextbase GW312 Detect Incidents?
In the Nextbase unit, accidents are detected in several ways.
The G Sensor software and motion detectors inside the dashcam will detect any harsh movements of your vehicle while you are driving.
This also applies if your vehicle is parked and is involved in any sort of crash.
The driver and any passengers are also able to 'label' any incidents on the recorded footage.
For example, you may witness a crash or accident, and your evidence may be crucial to the actions taken, so you could manually mark the footage to share.
The Nextbase software also uses timestamps to help pinpoint the dates and timings of any incidents.
Using its GPS software, it can also pinpoint the exact location, but that is not all.
Using the GPS software, it can also record the speed of the vehicle and even braking and acceleration data of the vehicle.
The Nextbase dashcam is also fitted with screens where you can view the recorded footage and where you can also control the device functions.
These include the sensitivity of the G Sensor, recording modes, and download options.
Nextbase and Insurance Claims
One of the significant uses of a dashcam, including Nextbase, is to provide vital information about an accident and who was at fault.
The beauty of using a dashcam is that it can give an independent verification of precisely what happened, both leading up to the accident and the aftermath.
The evidence of a dashcam can be particularly useful for incidents such as when a driver jumps a red light. Without a dashcam, it is nearly impossible to prove that that person skipped the light.
The dashcam is invaluable when there are no human witnesses to the event in question.
Continuously Recording
Most dash cams such as the next base 312GW now record continuously, and some even record when you are not in the car so can deter thieves and vandals looking to break into your vehicle.
In the UK, some insurance companies will offer up to 30% discount for having a dashcam installed on your vehicle, so it is well worth thinking about the investment.
If you consider that the average car insurance is £425, that can be a saving of over £127 in the UK.
Nextbase has been one of the first companies to tie up a deal with a major insurer.
They have an agreement with constructaquote.com and are offering anyone who is using a commercial vehicle that is fitted with a Nextbase dashcam – 15% discount.
Could Also Help You Drive Better!
They believe that having a dashcam fitted can influence driver behaviour in a positive fashion.
Like many facets of technology, the price of a dash cam has come down over the last 12 months as more and more drivers purchase a dash cam.
When fitted in a car, the dash cam can encourage better driving from the driver who will know that their driving skills are being recorded.
The insurance companies don't use dash cams to monitor your driving, but the footage can be used as evidence following a driving incident.
Another thing to bear in mind that if you make a claim without dash cam footage to support your application, you might lose all your no claims discounts also.
Having a dash cam can make you feel safer on the road, but unfortunately, it will not deter other bad drivers.
To ensure your insurer will accept your dash cam footage as evidence, you need to ensure these steps are followed:
1. Make sure your dash cam is fitted correctly. It should be installed centrally on your windscreen and be tucked behind the rear view mirror. Ensure that it is pointing in the right direction and is covering all the roads.
2. Always check your dash cam is on and recording. It sounds obvious, but they can be accidentally unplugged easily. Make sure it is plugged in and won't die on you as you undertake your journey.
3. Save relevant footage as soon as you can. Most dash cams have a loop recording, which means they automatically remove old footage. You need to save any footage on your computer or smartphone as soon as something happens, or it may get written over. If you leave it too long, you may also forget time and location.
4. Share any footage with your insurer using physical means rather than attachments. Make sure you upload it to a file-sharing service such as dropbox or on a physical USB stick.
To conclude then, it seems more and more insurers are accepting dash cam footage as evidence when you make a claim.
That means that more and more insurers will start considering offering discounts for dash cam users, so it might be worth considering installing one in your car.
Nextbase Ease of Installation
Not only is the technology outstanding in the Nextbase, but they have also given a lot of thought into the installation.
They have made it super easy for fleet users of the product to be able to remove and install the unit.
It has a 'Click & Go' system that makes it a cinch to remove and re-install without the worry of dismantling wires.
As the Nextbase dashcam is small and compact, it can easily fit into the glove compartment of all vehicles.
Its size also allows you to fit it behind the re-view mirror so as not to disturb your own field of vision while driving.
The Click & Go mount uses magnetic technology and power points to dock and charge the unit.
The power cable is attached to the mount and not the central unit, so aiding easy dismantle.
Nextbase 312GW Frequently Asked Questions
Does the Nextbase record when the car is parked?
You can manually set the impact sensor to wake and to record if the car is parked.
Is the screen/picture always visible, or does it go blank to avoid distraction?
The screen is always on when operating but will go blank after a minute or so. As it can be tucked away behind your rearview mirror, it is not visible anyway.
You can also manually turn the screen off when in operation.
Does it record inside and outside the vehicle?
Yes, the Nextbase will record both inside and outside.
Does it work on 24 volts?
The connecting cable that comes with the unit is either for 12V or 24V.
Is an SD Card included?
No, you have to purchase a separate SD card for the unit.
Can you disable the GPS?
GPS is set on by default, but it can be turned off in the settings. These settings are saved and will not be changed by disconnecting the camera. Note that the camera is turned on and off automatically by using the ignition key, which does not change the settings.
Is the 'Click & Go' mount included?
Yes, everything is in the box ready to go.
Does the unit have a battery life?
The dashcam has a very short battery life of about 10 minutes, so it needs to be plugged in during use.
Does the parking mode work without being hardwired?
It will depend on whether the auxiliary powerpoint that you use in the car is permanently powered on, or whether it is controlled by the ignition switch. If the latter, then you will need it hard wired.
What is the purpose of the wi-fi function?
You can scroll your mobile device through the wifi function, with the camera to review footage or save/send the recorded footage from the camera.
Will the dashcam film someone trying to damage my vehicle?
It will work only if a vehicle hits your van. If your camera is set correctly, it will switch on, capture the other vehicle dependant on the direction it hits you. Your camera will then switch off to protect any video captured.
Dash cam has gained popularity over the last five years for various reasons. In this review, we highlight the Nextbase 312GW popular dashcam and discuss the various features of the product.
A dashcam can also be known as a dashboard camera, DVR, or car black box. A dashcam is basically an onboard camera situated in your car that continuously records the view through a vehicle windscreen.
You may have all witnessed some of the video footage that they have produced in that a dashcam has recorded many road incidents like the many youtube videos you can now view.
There are several reasons why you might consider buying a dashcam
Firstly they can record any motoring incident you may have, which might be useful for an insurance claim.
Secondly, if you are stopped for a traffic violation, your dashcam evidence may help you avoid a fine.
Thirdly it might help you fight insurance fraud as you will have an accurate record of what happened.
Some people question whether dashcams are legal. The law is that they are authorized unless you are using them to infringe on other people's privacy.
10 Things You Need To Know Before Buying a Nextbase 312GW Dash Camera
1. Can I install a Nextbase 312GW dash cam anywhere in my car?
One of the factors that may invalidate your dashcam is if you install it incorrectly.
It is extremely important that it does not obstruct your field of vision.
If the police decide it is incorrectly installed, they can fine you, and any footage is inadmissible in court.
Installing a Nextbase 312 GW dashcam is very easy, there are basically two options.
The first is you can just use the cigarette lighter power supply to run your Nextbase dashcam from.
It comes with a 4-meter cable. You can fit the unit behind the rearview mirror and run the cable into the cigarette lighter socket.
If you are looking for a much neater way of installing the dashcam then you could use the hardwire kit.
You can either do this yourself or get a retail outlet such as Halfords to do it for you.
2. Are Nextbase Dashcams legal?
The simple answer is yes. There are no laws in the UK against them.
Having a dashcam is no different from having CCTV outside your house. However, there are some countries where it isn't
There are some restrictions in other countries such as Belgium, Germany, Switzerland.
In Portugal & Luxembourg, they are totally illegal
3. Dashcam Legalities
If carrying passengers, you must inform them you have a dash cam.
It can only operate controls when parked.
Dashcam video footage can be used in court.
Police have a right to view your footage even if it incriminates you.
4. Do I have to get special permission to use one?
You don't need any special permission to use them, nor do you need to notify anybody if you fit one in your car.
In the US, some states have tighter controls on windscreen obstructions.
Some states prohibit windshield mounts some do.
5. Do Nextbase Dashcams always record?
Dash cams are designed to record continuously whenever they have power.
Unlike general purpose recording devices, a dashboard camera will typically be designed to automatically overwrite the oldest files on its storage media if the media fills up.
The Nextbase 312GW dashcam records on a loop system even if the SD card installed is full. This means that the older files will be overwritten.
In the event of an accident or incident, all files that are protected by the G-sensor system will be protected and not overwritten.
This means these files can be sent to police or insurance companies.
Loop recording also works by recording in segments rather than one large file.
This mode of recording makes the files easier to download, particularly on wi-fi enabled units like the Nextbase 312GW.
The recording time for each loop is approximately 3 minutes; this can be increased to five minutes, though.
The Nextbase 312GW gives 4 hours of recording time before it loops over.
6. Can I upload my Nextbase Dashcam footage anywhere?
Yes, in the UK, there is Next base (https://www.nextbase.com/en-gb/national-dash-cam-safety-portal/) where if you record an incident, you can upload your footage.
The portal is available to cyclists and other road users as well as Nextbase drivers and is linked to 19 police forces in the UK.
Even if your local police force is not signed up to the portal, it will generate a witness statement and reference code which you can then take to your local police.
7. Does a Nextbase 312GW Dash cam work when the car is parked?
Yes, many dashcam now has the function to record even when the car is not travelling.
This can deter vandals or thieves from breaking into your car as they can be operated remotely by you.
The Nextbase 312GW model has what is termed parking mode.
This is designed to record any physical movement on your vehicle from your dashcam when your vehicle is left unattended.
With the G sensor technology, parking mode can record if someone bumps into your vehicle when you are not present.
The parking mode can be turned on in the dashcam settings and activates after 5 minutes of inactivity.
8. How a Nextbase 312GW helps in an accident?
Having a dash cam will help you in an accident. Most people have different memories and recall when an accident happens – having video footage will support your claim.
9. How can a Nextbase 312GW help in avoiding a ticket?
If you are stopped for a traffic violation you did not commit, offer up your dashcam footage to help your case.
10. Does having a Nextbase Dashcam lower my insurance?
This is a crucial question.
In the UK, some insurance companies now give between 10-30% discount for having a dash cam installed.
In the US, at present, there is no benefit to insurance costs. However, there are bills in some states going through that will make it law for insurance companies to give a 5% discount.
The more dash cams come into use, you can bet the insurance companies will come on board offering discounts.
Nextbase Accessories
As you'd imagine, there are lots of accessories for these great dash cams
View Accessories
The Evolution Of The Dashcam
So what does the future hold for the humble or not so humble dashcam?
There are many future possibilities that could arise in dashcam technology.
There may be increased use of the external and internal cameras inside and outside the vehicle.
Nextbase has realized that customers in this day and age want instant results, hence why they have introduced wi-fi to the 312GW to allow instant downloading.
Uploading of footage in real-time could also be of enormous benefit, particularly to fleet owners in the future.
There is also the possibility that the fitment of dashcams could become mandatory.
Although that may be a long way off, it is a possibility as the benefits of the dashcam become more apparent for everyone concerned.
Best Place to Buy…
Buy Now From Amazon
Looking for a budget dash cam?
If you're looking for a budget dash cam then you might want to take a look at our budget dash cams under £50 review.