Let's hope the Philips Sonicare DiamondClean Smart Electric Toothbrush gives you the perfect smile! Let's see if it's as good as they make out!
CHECK LATEST PRICE ON AMAZON
The Philips Sonicare Diamond Clean is an electric toothbrush that is actually smart. With five different modes and 4 premium brush heads, you should have everything you need to keep your teeth clean 24 hours a day, seven days a week.
Of course, oral hygiene is highly important and can have an impact on not only how we look and feel but our overall health. There are a few better corporations at the forefront of dental care technology than Philips.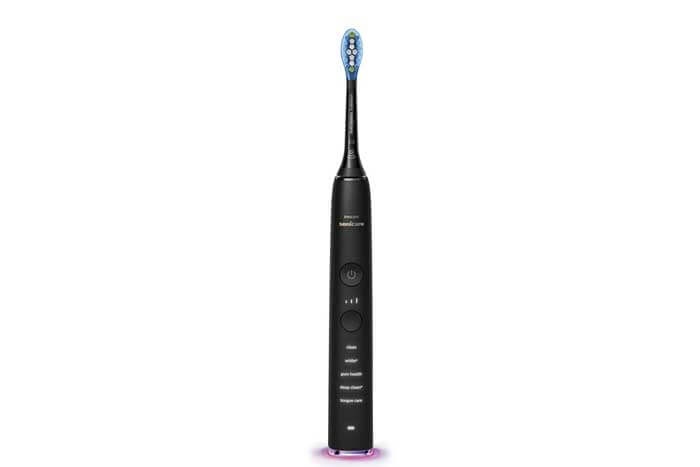 They have a long and successful track record of delivering products that really make a difference to people's lives.
9 Benefits of the Philips Sonicare Diamond Clean
If you are searching for a new toothbrush or want a better, brighter smile, there are a lot of different products on the market today. It's worth looking at the higher end when you are considering personal oral hygiene.
The Philips Sonicare Diamond Clean is a cut above other products in the dental hygiene category, not least because it's one of the few truly smart toothbrushes currently available.
Here are just some reasons why it might just fit your needs if you are currently looking for a toothbrush:
1. Complete Oral Care in a Box
There's no doubt that dental work of any kind costs a lot of money, whether it's brightening discoloured teeth, reducing gum disease or filling a cavity. Making sure that you take care of your own oral hygiene ensures you spend less time and money at the dentist.
The Philips Sonicare Diamond Clean is designed to give you everything you need in one box. You may need a brush head that improves gum health, for example. Perhaps you want to whiten your teeth. Or keep your tongue clean.
These cleaning jobs all take slightly different approaches, something that new, smart Sonicare provides. For a start, the sensor technology gives you the feedback you need to maintain good gum and tooth health at all times. Combined with the smartphone app, it can also teach you to brush your teeth better!
2. It's Simple to Replace the Brush Heads
One problem with other electric toothbrushes is changing or even finding new brush heads. The Sonicare comes with a great new reorder facility backed up by its smart technology. Simply use the specially dedicated app for this toothbrush to order replacement brush heads as and when you need them.
3. You Get Philips Premium Brush Heads
The box comes with three premium brush heads that are designed to help with three big issues: plaque removal, whitening and better gum health. In addition, you get a brilliant tongue care brush along with the specially formulated BreathRX Tongue Spray.
It's easy to swap these at any time depending on what you want to achieve. Each time you get a brilliant and intensive clean that will certainly improve your overall oral hygiene, whichever brush you are using.
4. Different Intensity Modes for Different Brushes
Each brush isn't just different in the bristle design, there are automatic modes of intensity depending on which one you are using.
This means you don't have to worry about adjusting the intensity to hard or soft using the manual control. The Sonicare DiamondClean Smart toothbrush does everything for you. Of course, you can always choose to override any pre-set mode using the simple controls.
5. Get Feedback as You're Brushing
The great thing about the Sonicare is that you get feedback as you are brushing, In other words, you can get support for your cleaning technique in real-time. This is useful to stop you pressing too hard or to prevent you missing a section of teeth.
Pressing too much with an electric toothbrush can be counterproductive. Not only might it cause bleeding, it also doesn't provide the optimal conditions to give your teeth a really good clean. The Sonicare helps you keep all this under control.
6. A Host of Sensors Help Get the Best Clean
These inbuilt smart sensors are what makes the Sonicare DiamondClean Smart electric toothbrush different from other products on the market. They monitor pressure, motion and location so that you are always able to give your teeth a much deeper clean.
7. Different Settings and Intensities
When you first get the DiamondClean out of its box, you'll see the smart handle and notice a number of different modes and intensities. There are actually 5 modes:
Clean
White+
Gum health
Deep clean
Tongue care
These give you a lot of different options. One which is really new and useful is tongue care. We often ignore this when we are cleaning our teeth but it is really important for overall mouth health.
8. USB Charger and Travel Box
If you're fed up with the old two-prong plug for other electric toothbrushes, the USB charger that comes with the Sonicare DiamondClean will be a great relief. It makes charging so much more convenient. The kit also comes with a great looking travel case for when you are out on the road.
9. Comes with Glass Charger for the Home
Philips are great at adding style to their toothbrush tech. There's a charging glass that comes with this product that just looks absolutely brilliant. The great news is that one charge for the Sonicare lasts up to 2 weeks.
What You Get in the Box
There is plenty in the box and once you open it and take out your Sonicare DiamondClean smart toothbrush for the first time, you'll certainly be impressed. It includes:
The main battery and handle with multi-modes.
3 premium brushes for gum health, plaque removal and whitening.
The TongueCare+ brush.
BreathRX tongue spray.
Charging glass.
Brush holder.
USB charger.
Luxury travel case.
How to Connect to the Philips Sonicare Diamond Clean App
One additional feature for this electric toothbrush we haven't mentioned enough is the smart app that goes with it. This can be quickly downloaded onto your smartphone and is designed to give you real-time feedback and even help coach your technique so that you get a better, deeper clean.
The app collects data over time giving you a complete understanding of your oral hygiene and how it can be improved.
The Philips Sonicare Diamond Clean smart electric toothbrush is a stylish and innovative product that takes teeth cleaning to the next level. Backed by innovative smart technology, it's easy to take complete control over your oral hygiene, keep plaque under control, maintain healthy gums and whiten your teeth.
Well, we hope this helps in choosing the right toothbrush. We certainly think the Philips Sonicare Diamond Clean is great toothbrush – even with the price tag. Best price we could find on Amazon was here.